Parents, it's that time of year again…back-to-school! And you know what that means: loads of lunchbox planning ahead. Week one might feel like a breeze with all of the different cold-cut combos, but by the time the leaves start changing, many of us are scrambling to come up with new lunch ideas. This year, ease your lunchbox struggles with our secret weapon—beans! We've created a list of 7 delicious recipes to add to your lunchbox menu that will fuel and nourish your kids:
Homemade Hummus with Veggies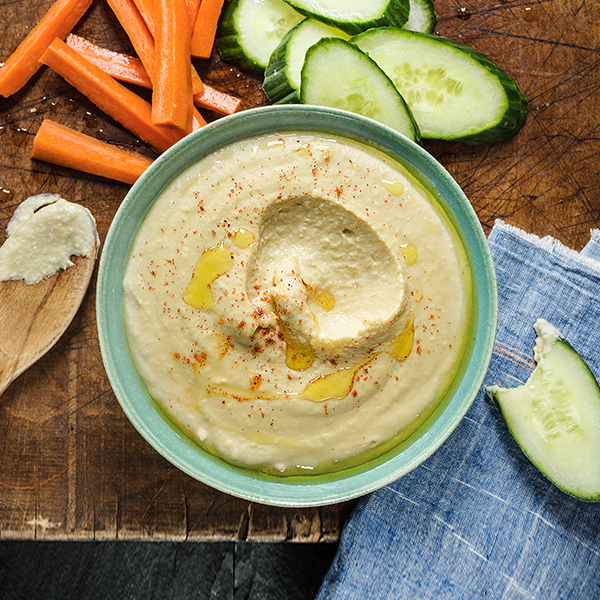 Hummus meets all the requirements of a healthy snack—high in protein, low in fat, packed with vitamins, and it's delish. Best of all? Kids will find the dipping so much fun that they'll actually be excited to eat their veggies! With only 10 minutes of prep time, this hummus will soon become a weekly lunch staple.
Avocado + Chickpea Sandwich
Step up your sandwich game with this creamy avocado and chickpea sandwich! Simply smash together organic Green Valley garbanzo beans and avocado, and throw in some Greek yogurt for a gourmet sandwich made in no time.
Build-Your-Own-Taco

Want to win the parent-of-the-year award in the eyes of your little sweetie? Treat your child to a fun DIY lunch experience each month! No recipe needed; just your creative thinking. Fill a compartmentalized container with ingredients such as, mini tortillas, your child's favorite meat, salsa, cheese, and a serving of organic Green Valley black beans.
Roasted Cinnamon Honey Chickpeas
It's a fact that kids love sweets. Instead of serving them processed, sugary snacks, make your own healthy alternative! Transform garbanzo beans into sweet treats — they'll be so satisfying that your child won't even realize they're eating protein-rich beans. Plus, they're super easy to make-ahead for the entire week.
Spinach & Black Bean Burrito
Struggling to get your child to eat leafy greens? This burrito offers the perfect opportunity to sneak some nutrient-dense spinach into your child's diet. The combo of spinach and protein-rich black beans will power your child through the day, while delivering numerous health-enhancing benefits.
Black Bean Brownies

Your child's face will light up when they get a taste of this chocolatey, rich black bean brownie. This better-for-you alternative is high in taste, but low in sugar and fat. The hardest part about making these brownies will be resisting the the urge to break into your child's lunchbox in the middle of the night…
White Bean Pasta Salad
The word "salad" may scare some parents away; don't worry, just one bite of this dish and your child will be begging you for more! White beans, peppers, and bowtie pasta combine effortlessly into a fun, vibrant bowl. Use organic Green Valley Great Northern Beans for added health benefits.
What are some other bean recipes that you make your kids for lunch? Share them with the rest of the Green Valley Parents on our Facebook Page!